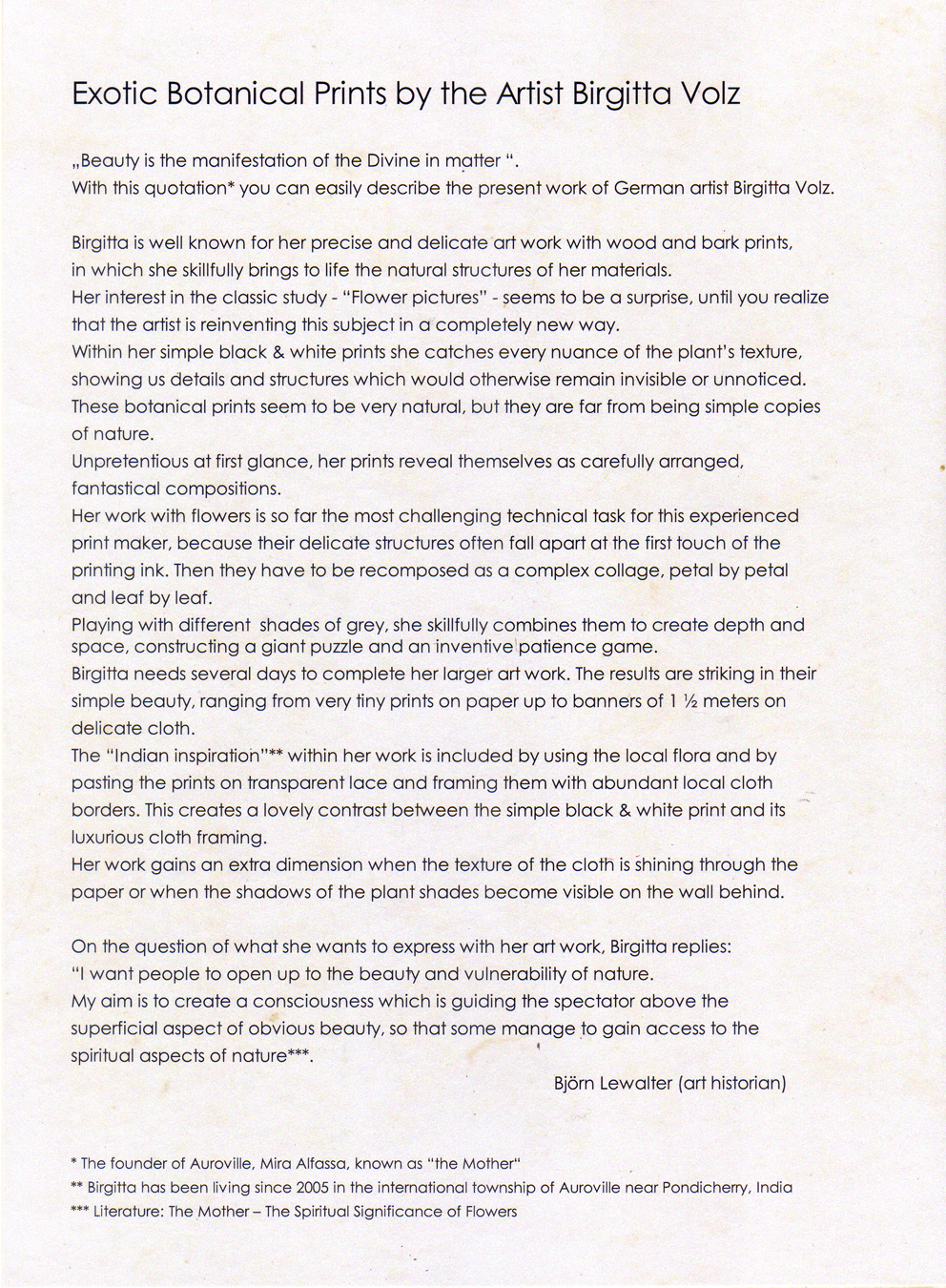 Exotic Botanical Prints by the Artist Birgitta Volz
"Beauty is the manifestation of the Divine in matter".
With this quotation* you can very easily describe the present work of the artist Birgitta Volz.
Birgitta is well known for her precise and delicate art work with wood and bark prints, in which she skillfully brings to life the natural structures of her materials.
Her interest in the classic study - "Flower pictures" - seems to be a surprise, until you realize that the artist is reinventing this subject in a completely new way. Within her simple black & white prints she catches every nuance of the plant's texture, showing us details and structures which would otherwise remain invisible or unnoticed. These botanical prints seem to be very natural, but they are far from being simple copies of nature. Unpretentious at first glance, her prints reveal themselves as carefully arranged, fantastical compositions.
Her work with flowers is so far the most challenging technical task for this experienced print maker because their delicate structures often fall apart at the first touch of the printing ink. Then they have to be recomposed as a complex collage, petal by petal and leaf by leaf.
Playing with different shades of grey, she skillfully combines them to create depth and space, constructing a giant puzzle and an inventive patience game.
Birgitta needs several days to complete her larger art work. The results are striking in their simple beauty, ranging from very tiny prints on paper up to banners of 1 ½ meters on a delicate cloth.
On the question of what she wants to express with her art work, Birgitta replies: "I want people to open up to the beauty and vulnerability of nature. My aim is to create a consciousness which is guiding the spectator above the superficial aspect of obvious beauty, so that some manage to gain access to the spiritual aspects of nature***.
Björn Lewalter (art historian)
* The founder of Auroville, Mira Alfassa, known as "the Mother"
** Birgitta Volz has been living since 2005 in the international township of Auroville near Pondicherry, India
*** Literature: The Mother - The Spiritual Significance of Flowers